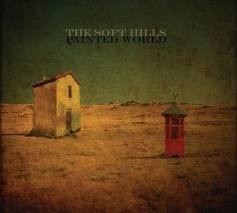 The Soft Hills new EP, Painted World, depicts the serene soundtrack to what is quite possibly one of Wayne Coyne's day dreams…
The first song, Apples, is sweet and haunting. As the words remark on the past and present you are taken on a slow melodic trip. The music sifts back and forth, and the long notes of the harmonica creates a soft, hypnotic sound.
Apples' finishes, and you wake up to "Spent," a happy melody, written so sweetly that at first you wonder why you feel so sad. This song is written almost perfectly, it measures a careful balance between beauty and sadness.
Almost as soon as the words begin, the song ends, and the third song, "Hills like White Elephants" takes a somewhat indie style, with a happy tune and slightly peculiar lyrics .
Slowly, the music drifts on into the fourth song, "Wandering." which seemed strangely reminiscent of Jonathan Stark's, "England'.
As the album came to a close, Diamond Road finished like a lullaby. The song ends, and leaves you in the mellow of your thoughts. ..or Wayne Coyne's….
For those of you who enjoy listening to Sigur Rós, Jonathan Stark, City and Colour, Margot and the Nuclear So and So's, The Flaming LIps, or Elani, I would highly suggest The Soft Hills.
Tags:
album review
,
Painted World
,
The Soft Hills