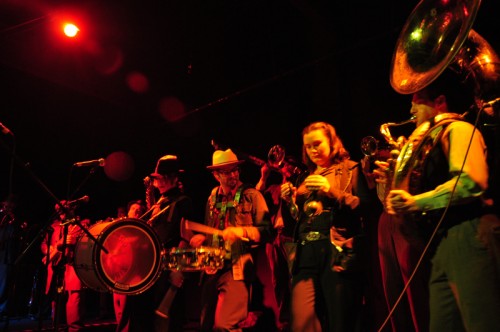 The first group to perform, Moraine, was soaring melodic jazz so very on the edge it seemed like improv; but that I've encountered them three times now and recognize some of the music. It's so intuitively and imaginatively arranged it appears spontaneous and in the moment, but every detail is intentional and perfect, including the Chinese fusion renderings (my new favorite).
The second group I can only describe as the upside-down of the first; Mean Recess, just two guys but they can blast the pictures right off the walls if you aren't careful to nail everything down before they begin. (this has happened before apparently).
Bone Cave Ballet: lovely ethereal, indie band vocal duets..but the very next moment they are blowing your brains out with absolutely possessed guitar/bass riffs and demonic percussion.
The night concluded with the audience invading and profoundly charismatic Orkestar Zirkonium; a symphony quality gypsy brass ensemble that appeared to be led periodically by an invisible Tevye from Fiddler on the roof. I'm pretty sure they had all of us singing in Yiddish at one point at the top of our lungs.
I realize no one who wasn't there is going to believe me.. but People were Dancing!!! In SEATTLE.. and I don't mean meek little head nodding sort of to the beat and rocking a bit on your feet excuse for dancing.. I mean waltzing, tango, improv, & grateful dead concert crazy dancing. LC also brought huge boxes of amazing chocolates from Theos in Freemont.. fig reduction, pear and balsamic vinegar, creme brulee, chili pepper.. which we shared with EVERYBODY.
I wish I could figure out what holiday was going on in the universe cause I can't wait for it to come again.
Tags:
Bone Cave Ballet
,
Mean Recess
,
Moraine
,
Orkestar Zirkonium
,
Seattle
,
Shared Medium Showcase
,
The Woodshed