Big Sur @ Connor Byrne, Seattle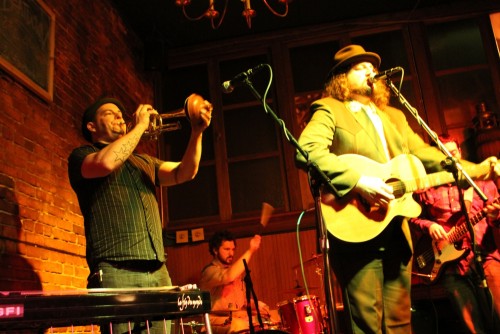 From Big Sur to Seattle, up highway 101, past Salinas, San Jose, San Francisco, on to the 101 north to Eureka and Humboldt County, through small west coast towns famous for sightings of Bigfoot, surfing and weed. You are cruzin alongside the cold salty Pacific Ocean where dark gray cumulus clouds darken the blue southern sky as it gives way to longitude. Past Crescent City into Oregon into Washington into Seattle. And on the way, out the window of your time machine, your personal jukebox, your pod, your automobile, you are not immune to the repetition of American idiosyncrasies, the dream of freedom functioning as a run down house on a run down lot, in an old neighborhood, next to a new neighborhood, three miles from Rite Aid, Vernon's Optical, and What the Pho. And though we have many lights to brighten the way, you know somehow, that we are still in the dark. That out there in America land, our hearts are still breaking, our heads are still drinking, there is poetry still unheard, and our bodies are weary of the effort it takes to do it perfectly, to be it perfectly. This is Big Sur in Ballard at Conor Byrne's Pub on 01.02.2010. Self described as American Folk / Melodramatic Popular music, this Bellingham band, led by Jake Humming, accompanied by Steve Norman on Pedal Steele/Dobro and Trumpet, backed up by Mike Bergstrom on Bass and Derek Jackman on Drums, had no problem drifting into the ageless ballads of the West Coast folk tradition. The band played a thirteen song set and looked right at home on stage in the back of Connor Byrne's Pub underneath the faded half lit, half knocked out chandelier. And outside of their third song, "Harbor Shops" which offered a faster, happier tempo, an obvious crowd pleaser, the band held true to heartbreak and life's darker emotional experiences. Jake's vocals lead well this genre of music reaching out to affect the late night bar audience with songs like, "I Will Sing for Short Hair and a Dress" "Chloe Wore Red" and the powerful stripped down, "Indian Summer" delivered bare with only Jake's vocals, his guitar, and Steve's Trumpet. Big Sur is sure to find fans along the coastline, and in these west coast cities of our modern depression, where we all move towards the future despite the wake of our fallible human nature.
You can find out more on Big Sur, and where to catch these guys live at http://www.myspace.com/bigsurmusic, or pick up their debut, five song album, "Women" to enjoy.
Tags:
big sur
,
concert review
,
jake hemming
,
photography