The Bohemian Bitch and Other Songs From Poets Row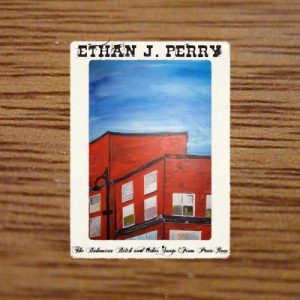 Ethan Perry's music is drunk with melancholy, but without the hangover at the end. He sings about sadness, about detachment, about age.. but there is something, either added or lacking, which takes away the otherwise expected bitter taste of loneliness/etc you sometimes are left with by such albums.
The emotional effect is very similar to spending an afternoon with Mazzy Star; I wouldn't call it hopeful, but the tone of the album seems to point towards this conclusion: nothing definitively sad, simply life. It's honest. The emotion the album broadcasts is much closer to nostalgia; it's the super long drive home to visit, remembering the dog you grew up with, and maybe even quietly missing a long put out relationship.
The album is also a bit like listening to a grim fairy tale. In the midst of all of the above, the attractive lull of Perry's voice is reminiscent of the abstract cleverness of Devandra Banhart, Donavan, or certain Beatles (see track 3: "I wish I were a fish").
(I'd also suggest this album to fans of Seth Martin).
Tags:
album review
,
ethan j perry
,
rachael perrell fosket