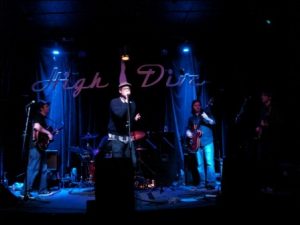 The snow had stopped by the time we reached the High Dive, Fremont only getting a heavy dust on this first day of Puget Sound's state-of-emergency, national-news-making, self-parodying blizzard. We were a few minutes late and fearing a near empty bar: both due to the weather, and both, thankfully, wrong.
We joined the crowd on the floor as Something in the Trees took to the stage for the first time. And they belonged. The sinewy mountain of Adam Sarton's and Larry Hopper's guitars made a perfect slope for Josh Snider's reedy baritone swagger. Matt and Eric Hopper (bass and drums, respectively) were a rhythmic bondforce, a connection of beats and brotherhood. You could see it in their faces and hear it in the groove.
They played their set with cool assurance, absurdist without pleading, filtering their many influences (covering Neil Young, Radiohead, and a great performance of Pink Floyd's "Fearless") and relationships (Larry is a cousin, Adam and Josh old friends and roommates) into their own unique and unified sound. It's a rare thing, and a good one, to see a band play truly in its own space: not a clash of sounds, or a battle of tastes, but a knowledge of exactly what they are, and what they do. A smirk you share with friends, the love and history behind a humor that doesn't need a laugh, a confidence. Smart, Seattle rock.
And we heard it, there in the High Dive, before the snowstorm shut us in for a while. Something in the Trees has something on stage, a place I hope they return to, and soon. Billy would be proud.
Tags:
High Dive
,
Something In The Trees