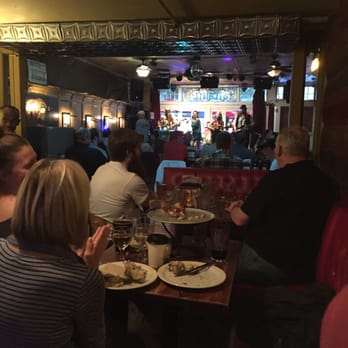 Venue: Mississippi Pizza Pub
Species: Small Rock/Dance Club (50-200)
Website: http://www.mississippipizza.com
Venue Occupancy: 100
Age Limitations: All Ages until 9pm
Stage/Sound:
Long-ish room with a house pa, a lot of families and riff-raff wandering through, but relying on foot traffic will amount to a sad audience.. Sound board is on the stage itself (diy), and bring your own door person. Tables and chairs and people with pizza and beers happily listening to music. Apartments upstairs, so not too too loud. Mics, mic stands and cords live at the bar. They'll hold onto your driver's license while you borrow them. 8 channel board. There is a board at back of room, and $15/hr the venue will provide a sound person and run from back of room instead.
Genres?
Eclectic
How's the pay?
Entirety of door money, plus some food/drink tickets. (where you're providing a door person). Door person from venue is $10/hr
Notes..
Pleasant place to play, in a nice neighborhood around Portland. They'll feed you and the room is bright and fairly nice sounding.
Contact:
Send music to: Sunny/ Music Booking Mississippi Pizza Pub 3552 N. Mississippi Portland, OR 97227 Venue: 503. 288.3231 Booking line: 503.888.4480 booking at mississippipizza dot com
Physical Location:
3552 N. Mississippi
Portland, Oregon 97227
United States
Tags:
Mississippi Pizza Pub
,
Portland
,
Venue