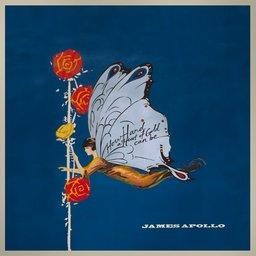 James Apollo's five song EP, How Hard a Heart of Gold Can Be, crosses my desk after a few years of drifting; it is a faded photo, an old love note, the smoky remembrance in your coffee after that last cigarette.
Released in 2009, and featuring a number of songs from his full length album Till Your Feet Bleed (2010), the EP is an aural glimpse of a ghost, an Americana wanderer searching for a frontier that disappeared in the gaudy neon of the modern world. It's the subtle sadness in that bar just outside of town, that dim Western joint with the horseshoe crooked on the wall, where the brunette next to you quietly orders a bourbon, neat, but your flirtations are tired and dusty and you turn back to face the jukebox and take another sip of your own bourbon, neat.
While it all goes down quite smoothly, a few tastes of this whisky are especially entrancing. "Paved Love," the first track of the EP is a mellow dirge with a subdued roar of a bridge, spine-chilling not in its ferocity but in its restraint. "How Hard (a Heart of Gold Can Be)," the catchy title track, is a soothing, melodic apology for a rolling stone nature. Both tracks are included on Till Your Feet Bleed.
I was pleased to find that James Apollo and his band (His Sweet Unknown) are still touring, wandering and searching, and will be moving through the Northwest in February. Sounds like closing time is a long while a way. Sure, James, I'll have another. Neat, please.
Tags:
album review
,
James Apollo