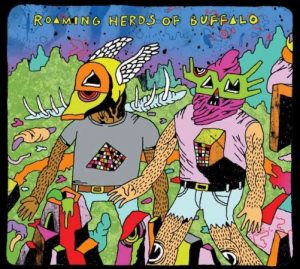 The self-titled debut of Seattle band, Roaming Herds of Buffalo, is a poppy, mosiacal foray into the mind of lead singer/songwriter Scott Roots, and is one of the better indie debuts I've heard in a while. Musically, the album crosses realms of a less audacious Modest Mouse, a Decemberist without the pretension, or an Aqueduct beyond synth; the production, a crisp sheen on a bulging, morphous creature of pop-rock.
While I found myself grooving to most of the eight tracks (it clocks in at just over 27 minutes), I particularly enjoyed a few choice cuts. "Buffalo" the opening anthem for the band, is a tale of the madness and uncontrolled consumption, has one of the catchier breakdowns, with a nice addition of a trumpet in counter-melody. "All of Them" is an ironically upbeat track with some great syncopation and melodic sensibility. "Keep Sinking" is easily the most "indie" of the mix, a Death Cab-ish tune in which a reflective Roots recognizes the traps of our own hopes, the forecast is calling for fire, everyone is dressing for rain. It's a sentiment running throughout the album: the best intentions are nothing without follow-through; the flames of passion will destroy and burn if our energies aren't used with temperance.
Lucky for us, Scott Roots and his band have spent the past year using their energy to craft a great set of recordings. On top of that, they're giving them out for free, and you can pick up the cd at their shows, or download it from their website. When I went to see them at their cd release show, I didn't know what to expect. After a week of listening to the cd, I'm trampled: this is some really good stuff. Here's to a quick spread of RHoB's fire.
Roaming Herds of Buffalo is playing at the Skylark on June 15th, with Little Hearts and Johnny Ma.
http://www.roamingherdsofbuffalo.com
Tags:
album review
,
Roaming Herds of Buffalo