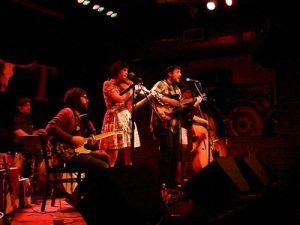 On Wednesday May 9, at the Tractor Tavern, Pomerantz, Pocket Panda, and Brite Lines took the stage for a rousing audience. Three folk bands with a twist, they each had a unique sound both fresh and uplifting.
Matt Pomerantz, in a three-piece band, started the night off with the sounds of a weary traveler, where underneath the hopes there are a few defeats. At times Matt's music gave me the feeling of an iguana crossing a desert road – just enough bluesy beat, and pure Americana.
Pocket Panda followed with a lively and danceable set. Their seven-piece band had a unified sound rounded out with keyboards, electric violin, mandolin, and cello. Eric Herbig's vocals were strong with charisma. They inspire the wild abandon of dancing around a bonfire in the forest. Flames and sweaty nights with melodies that make you forget the letdowns they sing about. Every member of the band was not only talented, but also adorable and kind of like a panda. Pocket Panda, much like their sound, is ready for take-off.
Brite Lines took the stage with purity and opened strong with a folk cabaret tune that included the ukele, saw, violin, upright bass, and even some water bottle percussion. At their best, they have that down-home cabin vibe & chop wood, go fishing, then sing a few songs while the coyotes howl. There were even some dashes of Celtic comfort thrown in. The banjo was an excellent addition on several songs.
The violinist was brand new to the mix, but still she was an impressive element. I was entertained by the fact that before the show she changed from her rocker gear into a Ballard appropriate 1950's prairie style dress. Not unlike her costume change, just when you thought you knew what you were in for with the music, Brite Lines veered from folk into pop territory. Zach Gore is a lively front man with a wide range of influences as a songwriter. His charm filled the room with positive energy.
And in the end, that positive feeling was the theme of the night – three bands on the verge of great things, busting at the seams with new music to share.
Tags:
Brite Lines
,
concert review
,
Pocket Panda
,
Pomerantz
,
tractor tavern