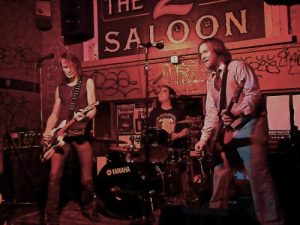 I didn't realize how zoned out on life I was until the New York Rifles came to town and woke me up out of my stupor with a yelping battle cry. Though based out of Portland, their breed of garage punk summons images of desperate times in 1970's New York City. But this isn't nostalgia – they are totally original masters of their sound.
On Saturday night, June 9th at the 2 Bit Saloon in Ballard, I saw Scott Young, the lead singer and guitarist, across the room before the set. Androgynous, impossibly thin, ghostly – he came over and introduced himself, thanked me for coming, and made sure I was at ease, as though I was a guest in his home. His graciousness surprised me in an era of self-absorbed musicians. I like surprises.
I knew that his band was really good, but nothing prepared me for the moment they took the stage. Some crazy spirit overtakes Scott's vocals and he submits fully to the force. Jamie Gould, the bass player, was full of panache and a mad dash in suit pants, vest and fedora. And Nate James on the drums drove them forwards with an intense beat.
They are tight with crystal clear vocals and a strong sense of ebb and flow. A creepy crawly riff breaks open into a tribal call; that last ditch effort, the sound of desperation overcome with tenacity.
Towards the end of the set, there was some expert head banging. The skate ramp in front of the stage inspired haphazard antics by Jamie, followed by a guitar riff played by Scott's teeth.
They ended with an invigorating chant, accompanied only by the drums. It had been a rough, downtrodden week, and they gave me everything that I wanted. Their music made me feel strong again. All I could think was, it's an unfair world that a band like this isn't in a larger venue on a world tour. But for those of us in that tiny space, we were lucky to have them all to ourselves.
Tags:
2 Bit Saloon
,
concert review
,
New York Rifles