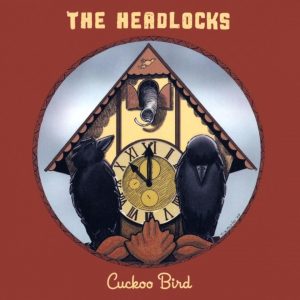 Hailing from Staten Island, New York, The Headlocks is a big band. Rob Carey, lead vocalist/guitar/harmonica player, ensures me there's only seven full time members. This more-than-usual lineup is obvious due to the many backup vocals, horns and various percussionists throughout their latest record, Cuckoo Bird.
The album was recorded in a not-so-typical fashion. Instead of recording individual instruments separately and then bumping each track into one cohesive song, they performed together at the same time.
"Cuckoo Bird was recorded differently from most modern albums. Ninety percent of it is entirely live, meaning the main vocal tracks were also recorded live" states Carey.
The whole band crammed themselves into a room at Hard Luck Studios in Red Hook, Brooklyn. There was some overdubbing later to add layers and Carey admits some sounds were difficult to isolate. There's a bit of a Rolling Stones ala Exile on Main Street influence on many of the tracks – kind of loose and swaggering. There's also a lot of vocal harmonizing.
Carey's voice and singing style on its own reminds me of Jack White – but let's get this straight, The Headlocks sound nothing like the White Stripes. I only believe his intonation and style is reminiscent of the Stripe's leading man in some situations. Apparently there have been several reviews by others suggesting a similar comparison, much to the disappointment of Carey – as he has stated on the band's blog.
"Me or You" kicks off the album with a mellow vibe complete with piano, a rolling back-beat, and some lovely harmonizing from the band.
The second number, "Driving in the Dark" is reminiscent of a feel good G Love-type song, complete with harmonica. Though it's not horrible, I feel it doesn't fit with the initial track.
"Shelter" begins with an upbeat and dance-able vibe before breaking into a rolling bridge and a sing-along chorus that would fit in well at a Sunday morning gospel service.
"Freeze the Frame" cranks up the tempo and features a sinister bass line ala Les Claypool in Primus and some rocking lead guitar work. Also, Carey lets loose and throws in a great scream or three. It may be my favorite song on the album.
"Made of Fire" the record's seventh track, asks the question "Who you want to be?" The background vocals are, in my opinion, some of the best on Cuckoo Bird. The wah'd out guitar solo compliments the song well too.
The next few tracks roll along nicely and compliment the band's strengths as songwriters and composers. "The Watcher (All the World's At Play)" is the slowest on Cuckoo Bird and features a different tone by Carey.
The final track, "It's a Wonderful Life" is the only one not recorded at Hard Luck. According to Carey, it was recorded in a basement on "inferior equipment" with the intention of later replicating the song in the studio. The band liked the original so much they put it on the album as is.
Overall I enjoy listening to Cuckoo Bird and feel it's an honest effort by the musicians involved. It's heartfelt and has a lot of original elements, along with some staple grooves. They have begun recording their next album, yet to be named, which should drop early next year. For now they are playing locally, but have future intentions of touring. Check their website, www.theheadlocks.com for updates.
Tags:
album review
,
Cuckoo Bird
,
The Headlocks