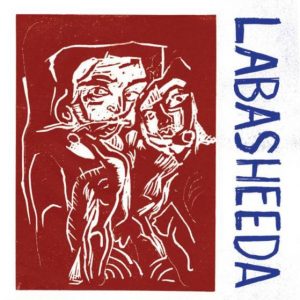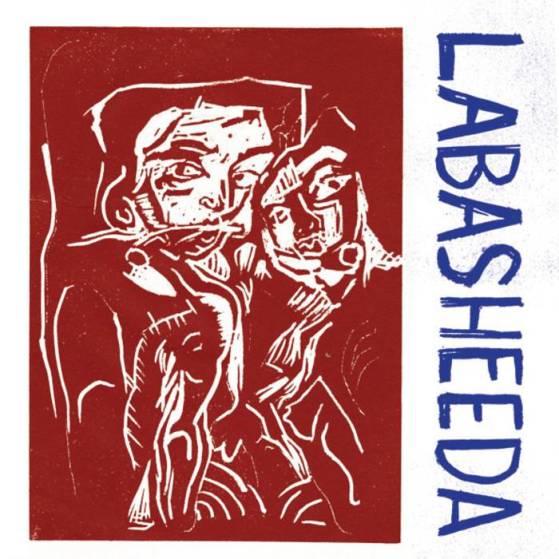 According to Wikipedia, Labasheeda is a small village in Ireland. It's also a four-piece rock band from Amsterdam in the Netherlands. Members Saskia van der Giessen (vocals, guitar, violin), Arne Wolfswinkel (guitar), Thanios Fotiadis (bass) and Dyan Ramekers (drums) play a melodic, and often chaotic, blend of music that's familiar to indie fans – both catchy and oftentimes heavy.
I was lucky enough to get my hands on a blue vinyl copy of the latest self-titled 7″ single, which includes three tracks. From the first listen I was hooked.
"Circle" kicks it off with a very melancholic and droney staccato guitar part before building up to the chorus, where the song evolves into a distorted sonic mass and van der Giessen's powerful voice really shines.
A simple drumbeat leading to a thumping and spacious bass line begins "Subsoil Streams" the EP's second track. Frantic guitar drives the pace and feel of the song, along with more of van der Giessen's mesmerizing vocals. It's difficult to tell Labasheeda is from Amsterdam, as there is really no discernible accent when she sings.
The final track is titled, "Relax-her" It rounds out the much too short EP and places an exclamation point at the end it.
All of these songs, excluding "Relax-her" can be found on Labasheeda's MySpace page as well as other gems such as "The Broken Windows of New York City" an almost six-minute instrumental that starts off placid and then crescendos into a lovely rock anthem. It is both delicate and forceful, proving the band can switch it up and vary its sound.
Judging from videos of Labasheeda's live performances, they know how to gesticulate the genuine energy that comes from their studio recordings. They are currently touring the Eastern Block of Europe. Keep your eyes and ears on the lookout if they happen to come your way.
Tags:
album review
,
circle ep
,
labasheeda