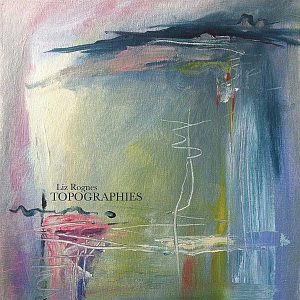 It's a balmy August night, damp and hazy and lazy and drawling, and I sit and explore Topographies, the second album from Liz Rognes. Originally from Minnesota, her maps have led her west, to relocate in Spokane, spinning tales of loss, hopes, and redemptions. Whatever caves were carved in the Midwest, she has filled with song, and her voice is a sonorous whisp, a resolute defiance in the dark caverns we all have. A perfect stand against this summer night stagnation.
Songs like the syncopated "Mirabelle" leave you imagining an alternate universe where Liz became a jazz-singer, and her tone is perfectly well suited for the sensuous, smoky beat of the old standards. In this universe, however, she was a classically trained soprano, and now makes her art like a rowdy Jewel, and the mountain folky tones and acoustic rock instrumentation (with haunting cello additions) are a perfect fit for her home-spun tales of our own inner pathways. I particularly like "Mama Said," with its hilly melody of the resounding strength of stepping into our own potential: "the only feet to get off this road are the two that I call mine… I'm going to play like my elders and stand up too.. there ain't nothing braver than the women I come from." We have a hand in our own history, our own story, and Rognes knows it. "Mountain Pass" is a beautiful hymn… comparisons of the dangers of a snowy pass and the dangers of a relationship: careful driving is the only way to make it through. Where some might make such a premise hokey, Rognes manages to make the metaphor poignant, touching, and honest.
It's this honesty that shines through the entire album. Liz Rognes is a woman who is not afraid of her own self, her strengths and her flaws, and she sings her truth in a voice of redemption. Life is a stance worth taking, and she takes it, and turns it into great music. I look forward to hearing more from this talented singer-songwriter, as life continues to inspire her and her art.
Tags:
album review
,
Liz Rognes
,
Topographies