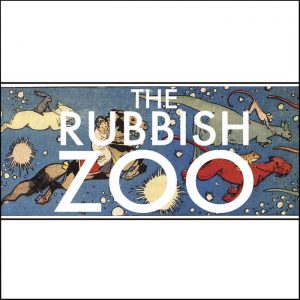 Feeling like you're in a funk? The Rubbish Zoo can take care of that. I was sitting at work listening to their latest EP, and after about two minutes of listening found myself out of my chair and dancing around – there went my bad mood! Vocally and melodically, they remind me of The Format with a hint of The Shins thrown in.
The second song, Mouth, has an 80s vibe to it, the electronics in the background make me feel like I'm watching Sweet Sixteen. "Look Alive" is my personal favorite. The light electronics used in this song makes it upbeat and the melodies make you want to bob your head for the entire song. When listening to this song, I imagine myself driving down a desolate highway with phenomenal views on a sunny day.
If Rubbish Zoo's aim is to create colorful, intelligent songs melded together with a bright sound – they do just that. The music sounds happy and light on the surface and makes you want to bounce around, but there's a lot of weight in the words themselves, and you find lots of bittersweet stories.
This EP has four get-up-and-dance songs that get your body (and your brain) moving. These songs are great for people who love music for the melodies, and even better for people who are lyric-oriented. I think I have found a new favorite band, and I can't wait until I have the chance to see them live.
Tags:
album review
,
The Rubbish Zoo