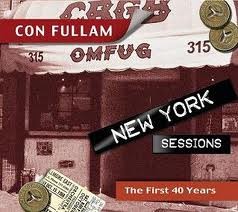 Con Fullam's talent as a musician taps into a vast and familiar source. You find in his melody and lyrics the same talent found in James Taylor, Bruce Cockburn, and Johnathan Edwards; Sweet soulful songs with a gregarious, if not at times melancholic tone.
He is a bit unconventional. He works in an almost backwards fashion, (in his sixty plus years as a musician, he has as of yet to release an official album. Don't ask me what it is that I'm actually reviewing. I think it's a pre-released box set?) But maybe that was a wise choice. In general people cut albums, and develop and grow their writing in context of their published work. Fullam, however, spent years getting ready to showcase his work. It was worth the wait. His "preparation" throughout the years has put him onstage alongside our idols (Bob Dylan, Richie Havens, etc..). His influences are the heroes of our folk world, and their influence has soaked into the marrow of his skill, creating something very beautiful and good.
When you listen to Fullam, it's like listening to music played to you when you were young. Well, that is if your folks were awesome and made sure to play you Nash, Buffalo Springfield, and Odetta. If that is the case, listen to Fullam's music and see if you don't remember him.

Tags:
album review
,
Con Fullam New York Sessions