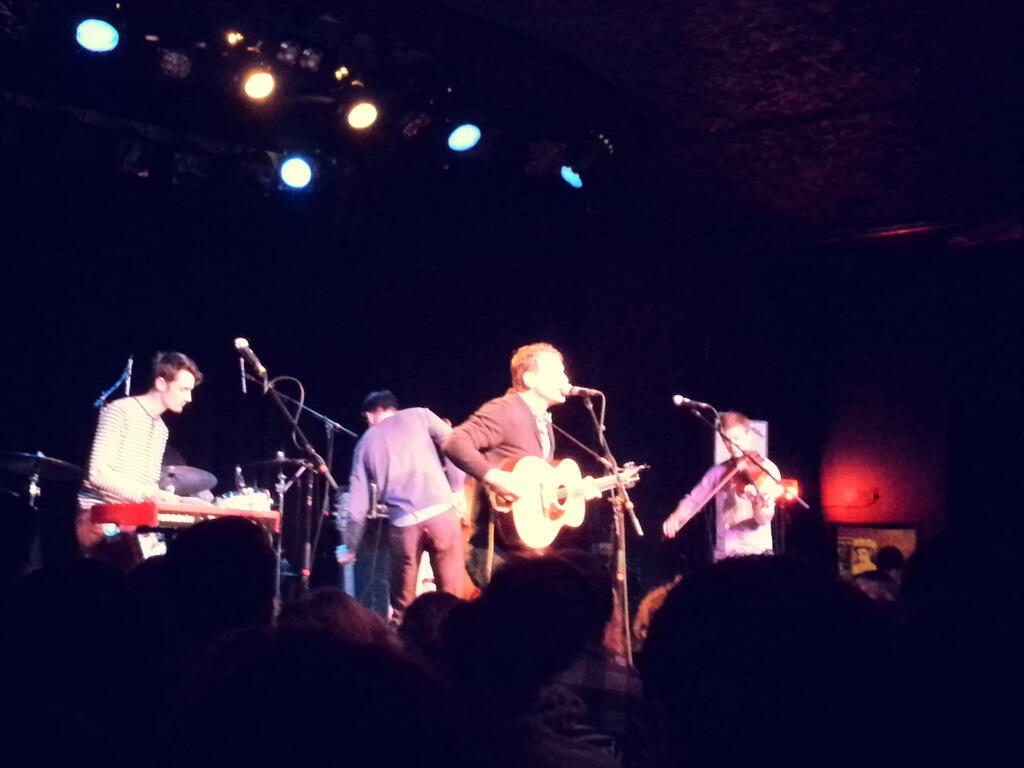 Hey Marseilles have come a long way since I first saw them play a breezy 2 o'clock opening set for Capitol Hill Block Party. I remember them all crammed up on that stage, about 10 or 12 of them at the end, smashing cymbals and banging drums. Not many people had arrived yet, but they were going to enjoy themselves nonetheless. Since then, Hey Marseilles have embarked on multiple west coast and national tours, building up a name for themselves and with it, a loyal fan base. They have played almost every venue in Seattle; an elaborate stint with the Seattle Symphony, gigs at Sasquatch and Bumbershoot, but they've also played more intimate shows such as Harbor Steps and that September afternoon in Pioneer Square. The Showbox was their one last territory to conquer, and a sold-out Seattle crowd was ready for them.
Opening bands Pollens and Y La Bamba were interesting and appropriate choices to welcome Hey Marseilles to the stage. They didn't keep anyone waiting long, starting off with singles from the new album, "Lines We Trace," "Elegy," and "Hold Your Head." Then, they delved into some older songs, "Cannonballs" and "From A Terrace." It wasn't long before they got to crowd favorite "Rio," where everyone clapped and sang along (as always). I thought their set was rather short. I'd sent them a Twitter message earlier in the day to request they play a specific version of their song "Calabasas," and they played it along with "To Travels and Trunks" as the encore. (Not sure if that was because of me, or because they were going to play it anyway, but I've got no complaints!)
Hey Marseilles new album, 'Lines We Trace' contains much of what made them so enjoyable in the first place, and reaches out to new heights. Elegantly layered cello and violin, yearning melodies, and lead singer Matt Bishop's thoughtful lyrics and soaring vocals are widely present. And don't forget about the trumpet! "Elegy" and "Hold Your Head" are heartfelt songs that we've come to expect from Hey Marseilles, but they've stretched themselves on "Heartbeats" and "Bright Stars Burning" for a heavier sound, at least for the choruses, while still maintaining their orchestral roots . Taken altogether, the album is a great representation of the Hey Marseilles Seattle has come to love, and also a testament to how they've grown.
They continue their tour down the west coast and to Austin's SWSW festival this week, and then on through a few southern states on the way to the east coast. Be sure to catch them if they're coming through your city, you won't regret it.
Tags:
concert review
,
Hey Marseilles
,
Showbox