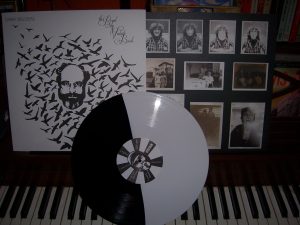 Barry Brusseau had me at the video of him showing how he lovingly created the limited edition vinyl for his recent release, The Royal Violent Birds. Slipped in a sewn canvas bag, stamped, silk screen printed, with a patch, eyelets, leather ties and a Gorbie International Records button, it's so tangible it makes you long for your own copy. Of course, the canvas edition is sold out, but the LP Black and White vinyl is available for a very reasonable twelve dollars.
As Barry puts it, he's a "… simple laborer for a living." His solo music career has been funded through years of putting away $50 from every paycheck. Before his current incarnation as an atmospheric indie singer/songwriter, he spent twenty years playing in metal and hardcore punk bands, with fifteen of those in the band The Jimmies.
You get the sense, that in veering off into a completely different direction, Barry has entered a new season of life… that of raw introspection and vulnerability. Stripped of loud guitars and surface fluff, he maneuvered into the subtle rather than the over-stated. The abstract vocals allow the listener to have their own personal experience. The record is meant to be experienced alone in your bedroom, just the way that Barry wrote it.
His deep baritone reminded me of the awkwardness of poets, reaching towards something almost impossible to convey, yet experienced as we listen.
"I wrote this salty song and put it all down in tears."
The Royal Violent Birds was released digitally and on vinyl. Brusseau grew up with vinyl, and loves the experience of bringing the record home, holding it while you listen, lost in the liner notes and photos.
As for his sophomore album, "It's about the unknown and not being afraid. The violence of chaos and mother nature are good."
Tags:
album review
,
Barry Brusseau
,
The Royal Violent Birds